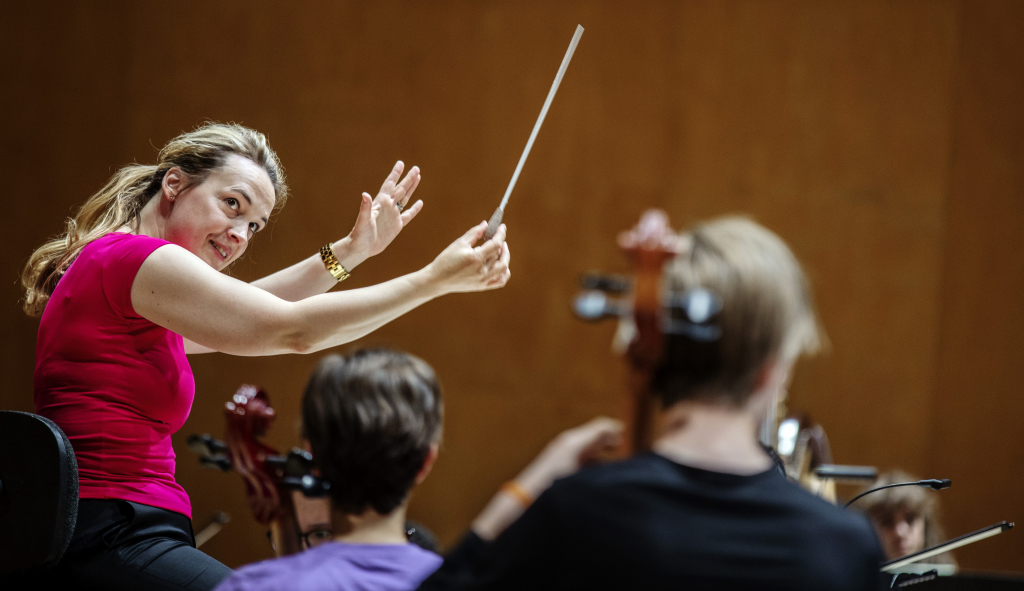 Music can make the world a better place. That became utterly clear in Gothenburg during five days in June, when 1,800 children and young people came together to play and sing together at the international music camp, Side by Side by El Sistema.
The day had arrived at last. All year long, they had been waiting to go to Gothenburg for the major music camp Side by Side by El Sistema. Violinists, trombone players and choral singers. Cellists, percussionists and flute players. The youngest participants are 6 years old; the oldest are 18. This year there were 1,800 participants, but when Gothenburg celebrates its 400-year-anniversary, there will be even more.
"We're like the Gothia Cup of music, but our common language isn't football; it's music," says Gabriel Rhea, 17.
Gabriel has been to every camp since Side by Side began five years ago. Last year, he left his violin at home to serve as a volunteer at the camp instead. This year, he is an employee and is busy helping all the kids find their way.
Gabriel's story is simultaneously El Sistema's story of how it all began, once upon a time in Gothenburg. He was there that day in 2009 when the Gothenburg Symphony Orchestra, led by chief conductor Gustavo Dudamel, went out to the suburb of Hammarkullen and played Beethoven's Fifth Symphony.
"Crown Princess Victoria and Prince Daniel were there, and I remember thinking that this was going to be big," says Gabriel, who was only eight years old at the time.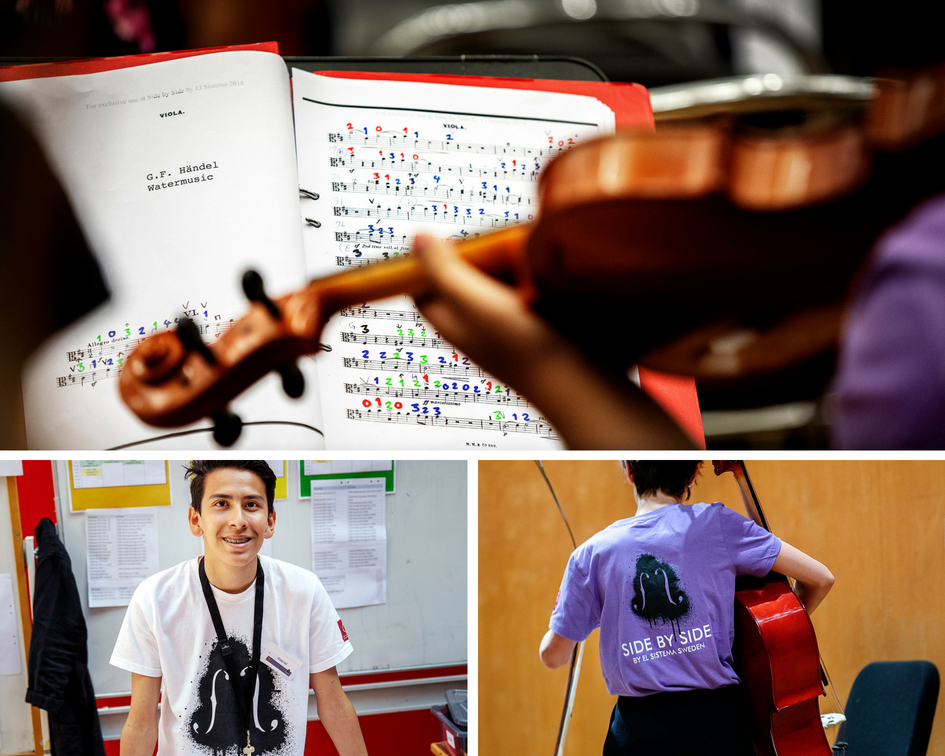 The concert in Hammarkullen was the launch of El Sistema in Gothenburg and in Sweden. A few years later in 2014, the first Side by Side by El Sistema music camp was held.
El Sistema is both a global movement and a work method. Music builds bridges between people, and creates meaning, context and opportunities to impact one's life.
The multi-level structure, from beginner to advanced, allows everyone to participate. The work method also has a component in which older students are role models for younger ones and help them progress.
Children and young people in purple T-shirts stream through the entrance to the Academy of Music in Gothenburg, one of many venues in the city which will be used for rehearsals for the next five days.
The room is filled with a hum of combined voices and music. From one auditorium the sound of trumpets can be heard, and from another, the voices of a choir. A group has gathered in a circle in the courtyard to play a game. Gabriel and his colleagues point people to the right rehearsal space and answer questions.
"This is a way to give back to everyone who did so much for me. To make sure that everyone has a great experience. Because the best part about playing in an orchestra is the sense of community. El Sistema is like a second family," says Gabriel.
Friends Maya Blanco and Nionta Ahmed, both age 12, come out from one of the auditoriums, both with a cello strapped to their backs. The cellists of the upper intermediate group just had a section rehearsal and are on their way to their next rehearsal with all of the string instruments together.
They regularly play with El Sistema in Hammarkullen. Three times each week, they practice with their group Hammarstråket, which comprises a part of the Hammar Orchestra. Every summer they look forward to participating in Side by Side.
"The best part about playing is being with other people. Music is a special language that everyone understands," says Maya.
"Music has given me a lot of friends. And it sounds so good when we all play together. I especially like the sound of the cello, which is heavy, dark and powerful," says Nionta.
It is time for the next rehearsal. Nionta and Maya find two places next to each other. The one hundred young people in their level who play various string instruments have taken their places in the auditorium – first violin, second violin, viola, cello and double bass. Conductor Kai Jack introduces himself to the kids.
"I like El Sistema. Here, we play with passion, love, energy, attitude and discipline! By the way, I forgot to ask you your names. Say your name, your instrument and where you're from. Everyone at once! Great, I heard all of you together. Now we're friends!"
The kids have had access to the score since November and were able to practice back home. Now the proof will be in the pudding to see how the piece from Handel's Water Music sounds when everyone plays together. The next step will be combining the strings with an entire symphony orchestra, which will in turn have an additional boost from the Gothenburg Symphony Orchestra at the big festival concert. The Gothenburg Symphony Orchestra is the primary organiser of the camp and plays with the kids, side by side.
"Through music, El Sistema and Side by Side bring kids together from various backgrounds, nationalities and living conditions by all of us playing the same pieces together. That makes it easier to think that we really aren't so different," says Petra Kloo Vik, who is in charge of youth operations with the Gothenburg Symphony Orchestra and project manager for the camp.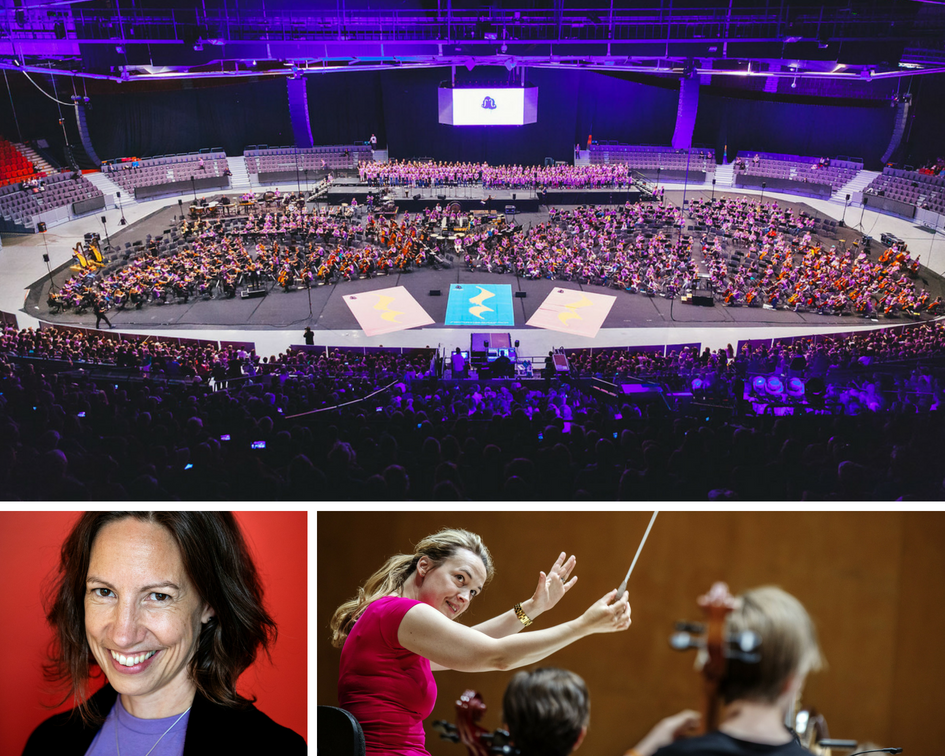 The kids and teenagers have five days of community and music performance ahead of them. The finale is the big concert at Scandinavium, where all 1,800 will perform together with the Gothenburg Symphony Orchestra and the Gothenburg Symphony Vocal Ensemble. Then, beautiful music and pride will raise the roof. Then, everything will fall into place. Then comes the payoff for those rainy Tuesdays last winter, when they still managed to make it to rehearsal.
"When we experience for ourselves how that struggle produces results, it makes us even stronger as individuals. In turn, that helps us create a better world," says Petra Kloo Vik.
Supporting El Sistema is a part of the Swedish Exhibition & Congress Centre's sustainability work. Read more about it in the article Harmonious sustainability initiatives.
Text: Anna-Lena Bjarneberg
Photo: Stefan Edetoft